the golden bear
Many wear our Golden Bear as a symbol of their connection to the Vail Valley. Others wear our Golden Bear because the bear is believed to be a symbol of strength, wisdom and good fortune. Classic beauty and timeless elegance are the reason our Golden Bear is worn by all. It is tradition to wear our Golden Bear pendants facing your heart and our Golden Bear earrings kissing your cheeks. We thank you for visiting us online and we hope you enjoy our special Golden Bears.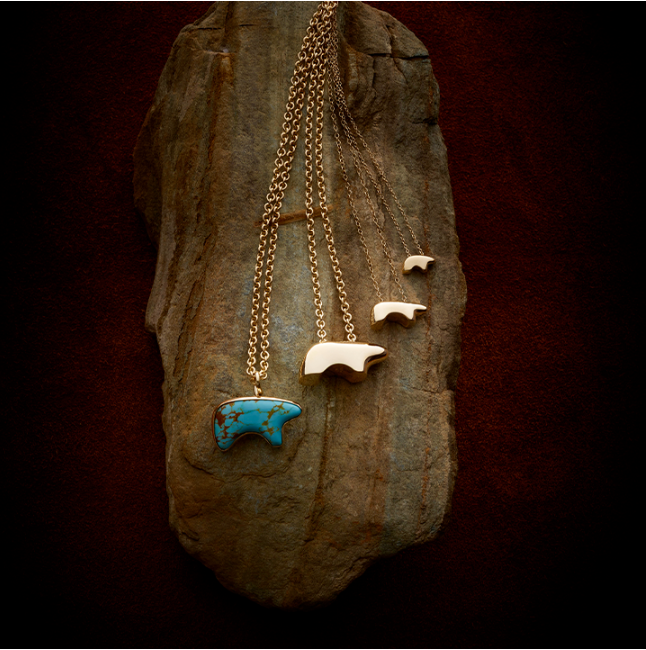 Our Store
Our Golden Bear is displayed in our Vail Village store with the same artistry and care in which it is created. We look forward to greeting you as you shop our ever-growing line of jewelry, giftware and home accessories. All of our giftware items are adorned with our signature Golden Bear design, making our gift and home accessories selection truly unique. Curated and displayed along with our Golden Bear pieces are exquisite collections of jewelry from some of today's most exciting designers. It's easy to lose track of time when you peruse the wonderful jewelry designs in our Vail Village store.
Our Studio
The Golden Bear tradition officially began with the design of the first Mama Bear pendant and has grown into a vast line of Golden Bear jewelry and gift items. Our Golden Bears are handcrafted in our Vail studio by a team of skilled metalsmiths and are created in several sizes and styles of pendants, rings, bracelets and earrings. Precious metals such as 14k and 18k yellow and white gold and sterling silver are used to create our jewelry. Diamonds, sapphires and other precious stones are often used to adorn our jewelry for added style and distinction.